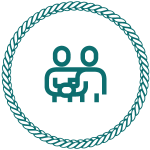 The Partnerships and Capacity team develops and maintains relations with key partners and supports organizational and capacity development through the design and implementation of comprehensive plans to advance FNIGC's network of alliances.
Central to the work of the Partnerships and Capacity team is working closely with our regional partners to build and expand First Nations data governance capacities in order to establish fully functioning Regional Information Governance Centres (RIGCs) across Canada, understanding that the central concept of information governance is essential to achieving data sovereignty. These concepts and ideas are articulated in A First Nations Data Governance Strategy (FNDGS or the Strategy).
We also administer the FNIGC National Student Bursary as part of these efforts.