The First Nations Information Governance Centre (FNIGC) is pleased to introduce a new-and-improved version of one of its most popular online services, FNIGC Data Online. The updated version of the online knowledge translation tool introduces a range of new features, such as a new mobile responsive interface, customizable charts and graphs, a more dynamic user experience, social media shareability, and twice as much data than ever before.
The new FNIGC Data Online, which launches today at www.FNIGC.ca/dataonline, represents months of rethinking about the functionality of the existing tool and how information is currently being accessed, used, and shared in today's online environment. The result represents a reimagining of the original Data Online tool, which was launched in December 2013 as an easy, no-cost way for researchers, academics, policy-makers and students to access FNIGC's significant data resources about First Nations reserve communities.
In the years since, FNIGC Data Online has grown to become the cornerstone of FNIGC's knowledge translation efforts.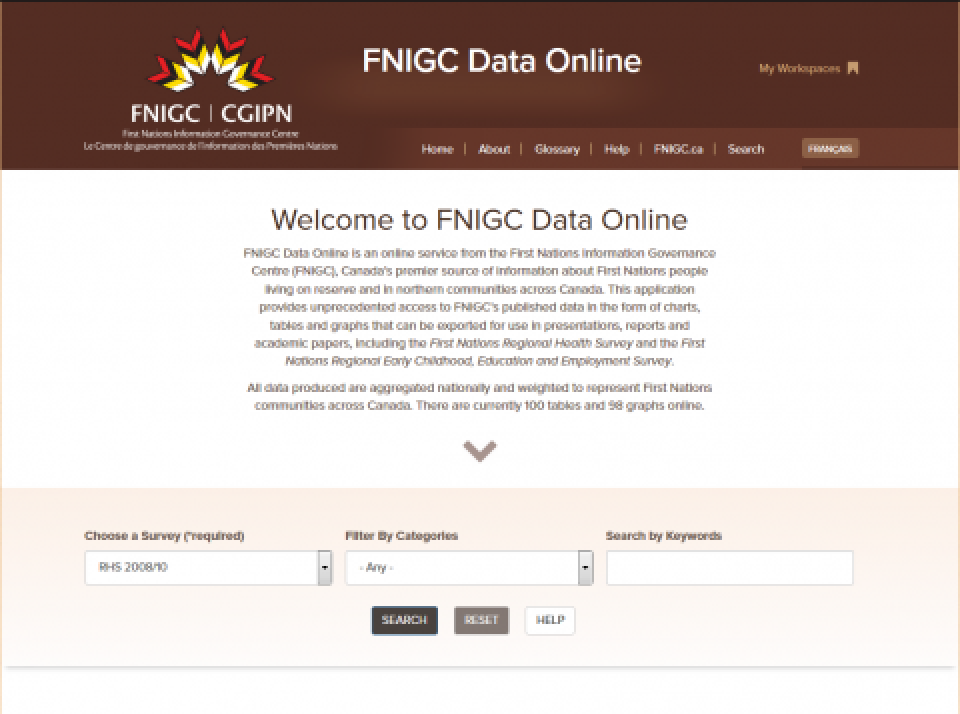 Since it was unveiled more than three years ago, the data tool has been one of FNIGC's most popular online products, consistently placing in the Top 5 most visited pages on FNIGC.ca with annual user visits more than tripling.
The new FNIGC Data Online offers these users a fresh new experience that better reflects how we use the web today. These new features include:
a mobile responsive interface that performs seamlessly on smartphones and mobile devices,
customizable charts and graphs that can be modified according to the user's needs,
a more dynamic user experience that is easier to navigate, more intuitive to use, and makes interpreting data much more straightforward, and
enhanced social media features, including the ability to share our data on Facebook or Twitter with the click of a button.
In addition, FNIGC is pleased to report that FNIGC Data Online is now also home to all published data from the First Nations Regional Health Survey Phase 2 and The First Nations Early Childhood, Education and Employment Survey, FNIGC's landmark First Nations survey processes. This amounts to nearly 400 charts, graphs and tables—twice as much as was previously available.
In the months ahead, FNIGC Data Online will continue to grow with the addition of all phases of the First Nations Regional Health Survey including Phase One and the soon to be released Phase 3. (Note that all previously published survey reports will continue to be available on FNIGC.ca.)
The premier source of information about First Nations reserve and northern communities in Canada, FNIGC is a First Nations-run non-profit organization mandated by the Assembly of First Nations to serve the information, research and training needs of First Nations people and communities. As such, FNIGC is committed to improving the health and well-being of people living in our 634 First Nations communities across the country.