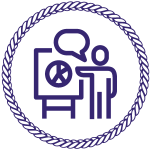 Knowledge Translation (also known as Knowledge Transfer or Knowledge Exchange) has many descriptions, but it is perhaps best defined simply as: putting knowledge into action.
Though the concept has existed for years, Knowledge Translation (or, KT for short) gained popularity around 2000 and has since become a priority for academics, researchers, health-care workers, and government institutions who are looking to make their research accessible and relevant to as many people as possible.
KT activities can encompass anything that moves research from the laboratory, conference, or academic journal into the hands of people and organizations who can put it to practical use. Infographics, videos, articles, and social media posts are all examples of KT in action.
As part of its dedication to KT, FNIGC is committed to sharing knowledge in ways that reflect the Traditions of knowing, doing, and story-telling that First Nations people have been practicing for generations.
Here you will find various papers, videos, infographics, and blog posts that we have produced as means of making our work more accessible and relevant to First Nation people and communities.
To read more about Knowledge Translation in an Indigenous context, read: Effective knowledge translation approaches and practices in Indigenous health research: a systematic review protocol