The First Nations Information Governance Centre (FNIGC) Board of Directors is pleased to announce the recipients of the 11th annual FNIGC National Student Bursary program. This year's recipients are Courtney Defriend, Tasha Shields, Keith Wood Brooks, and Latiya Northwest. Each will receive $2,500 and free registration to FNIGC's The Fundamentals of OCAP® online course.
Established in 2011, the FNIGC National Student Bursary is awarded each year to exceptional First Nations students enrolled in college or university studying in fields related to the advancement of First Nations data sovereignty. This year, FNIGC received a record 137 applicants from nine provinces. Recipients are chosen following a review of applications by a committee established by the FNIGC Board of Directors.
"We are glad to be able to provide these bursaries each year to outstanding First Nations students and help them along the path to completing their studies," FNIGC's Chairperson, Leona Star, said "When we assist First Nations students in achieving their goals, we're supporting the next generation of First Nations professionals and strengthening our communities."
2021 Bursary Winners
Courtney Defriend
Courtney Defriend (Ti'yuqtunat) is Coast Salish from Stz'uminus First Nation on Vancouver Island and is also of European descent. Courtney lives on Snuneymuxw territory with her young daughter, husband, and three pets. With a Bachelor of Arts in Child and Youth Care and a Master of Arts in Leadership, Courtney applies a trauma-informed and systemic lens to her doctoral studies, which focuses on accessibility of health services for First Nations people. Courtney started her career in services with Indigenous children and families. After 13 years, she moved into working in community based health services with the First Nations Health Authority (FNHA). Her work in mental health alongside Vancouver Island First Nations communities has led her to her current work with the provincial research team within the FNHA. In addition to her work and school interests, Courtney is a published author and above all, enjoys family time. Follow Courtney's journey:
LinkedIn: Courtney Defriend
Instagram: @courtney.defriend
Tasha Shields
Tasha Shields lives in St. Thomas, Ontario, and is of First Nations (Oneida of the Thames) and European ancestry. Tasha completed her Bachelor of Arts in Community Health and a post-graduate certificate in Workplace Wellness and Health Promotion before entering the workforce. After working as a policy analyst at a provincial Indigenous organization, she returned to school, earning a Master's in Public Health (MPH) in 2013. Since completing her MPH she has worked on several complex Indigenous health research projects, inspiring her to work towards her next educational goal. She is now pursuing a doctoral degree in Public Health at the University of Waterloo. Tasha is passionate about supporting Indigenous businesses and artists. Follow Tasha's journey:
LinkedIn: Tasha Shields
Instagram: @tashamarieshields
Keith Wood Brooks
Keith Wood Brooks is Cree from God's Lake Narrows, Manitoba. Currently he is finishing his Honour's degree in economics, specializing in econometrics at the University of Manitoba and plans on doing his Master's in Economics in fall 2022. He was inspired to study economics as a way to better understand the economic gap between First Nations and Canadians, and he plans to one day work in economic development. Growing up in an isolated First Nations community made him think deeply about why economic inequality exists and why it persists today, especially for remote communities like his. Besides school, his time is mostly spent with his lovely eight-month-old daughter, working, and being active. He works out at the gym between three to six days a week depending on how busy he is.
Latiya Northwest
Latiya Northwest is a nehiyaw iskwew (Cree woman) from Samson Cree Nation, Alberta. She is currently working towards a combined Bachelor of Science in Environmental and Conservation Sciences and Bachelor of Arts in Native Studies program at the University of Alberta. While attending university, she sat on her community's Nipîy (water) Committee that manages their own water affairs, as well as the Aboriginal Relations and Reconciliation Committee at the university for the 2021–­­2022 year. While attending school, she works as a Plains Cree language teaching assistant for an introductory class at the university.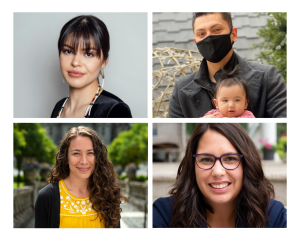 Since it was established more than a decade ago, FNIGC's National Student Bursary program has awarded more than $53,000 to 27 First Nations post-secondary students across Canada. To learn more about FNIGC's National Student Bursary program go here.
For more information on the bursary application process, contact Kristine Neglia, Manager, Education and Training, at [email protected]
For more information about FNIGC, visit FNIGC.ca or contact Brad Mackay, Manager, Communications, at [email protected].
– 30 –