As the coronavirus global pandemic continues to affect people across Canada, concerns have been raised about the vulnerabilities faced by Indigenous communities due to pre-existing health, social, and economic conditions.
Dr. Theresa Tam, Canada's Chief Public Health Officer, has stated that First Nations, Inuit, and Métis communities face a higher risk of "severe outcomes" from the novel coronavirus and COVID-19. These include health inequities, higher rates of underlying medical conditions, and challenges of living in remote and fly-in communities.
The First Nations Information Governance Centre (FNIGC) has published a special paper that is intended to support coronavirus emergency preparedness efforts in First Nations reserve and Northern communities.
The paper, RHS Statistics for Shaping a Response to COVID-19 in First Nations Communities, includes analysis based on results from the First Nations Regional Health Survey Phase 3 (RHS) Phase 3, a large-scale national survey of First Nations communities conducted in 2015–2016 by FNIGC and its Regional partners.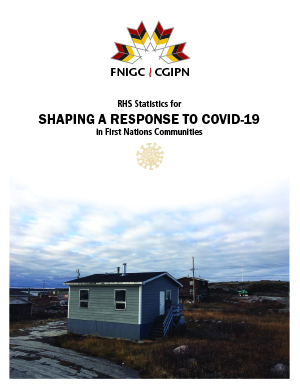 Available now on FNIGC.ca, the 22-page paper contains reliable national-level data that can be used by First Nations to better prepare for potential outbreaks of COVID-19.
The data in the paper was drawn from the RHS Phase 3 Volumes One and Two, which were published by FNIGC in 2018. These reports can be downloaded for free at FNIGC's Online Library.
The analysis in the paper is organized according to six socio-economic themes:
Chronic Health Conditions,
Barriers to Accessing Health Care,
Senior Populations,
Smoking & Obesity,
Housing, and
Poverty.
Some of the key findings include:
Nearly 3-in-5 of First Nations adults, 1-in-3 First Nations youth, and more than 1-in-4 First Nations children reported having one (or more) chronic health condition, such as diabetes, hypertension, and heart disease. Pre-existing chronic health conditions are a risk factor when it comes to COVID-19.
1-in-10 First Nations adults reported requiring health care in the previous 12 months but not receiving all the care they needed. 21 percent of First Nations adults reported not having a primary health-care provider, compared to 16 percent among the general population. Poor access to health care, health-care professionals, and resources poses a significant threat when it comes to the spread of coronavirus.
1-in-4 First Nations adults are living in overcrowded households (more than one person per room). That number is significantly higher in rural First Nations communities (28 percent) or remote/special access communities 1-in-3 (32 percent). Overcrowding increases the risk of the spread of contagious diseases, like COVID-19.
For more information on FNIGC's RHS COVID-19 paper, please download it on our Online Library.