The First Nations Information Governance Centre (FNIGC) Board of Directors is pleased to announce the recipients of the 10th annual National Student Bursary program. This year's recipients are: Chantai Minet, Mitchell Maracle, Destiny Bird, and Kate Dunn. Each recipient receives $2,500 and free registration to the FNIGC's The Fundamentals of OCAP® online course.
Established in 2011, the FNIGC National Student Bursary is awarded each year to exceptional First Nations students enrolled in college or university studying in fields related to the advancement of First Nations data sovereignty. Recipients are chosen following a review of applications by a committee established by the FNIGC Board of Directors.
The FNIGC's Chairperson, Leona Star, shared her thoughts on the value of the annual bursary program saying, "We are thankful to be able to support the next generation of First Nations researchers and epidemiologists who will create a stronger pathway that supports First Nations to tell their story through data, information, and research." She added, "These bursaries will continue to help First Nations students move one step closer to achieving their goals – grounded and supported through their ancestral knowledge and ways of knowing."
2020 Bursary Winners
Chantai Minet was raised in the Yukon Territory and identifies as someone with mixed ancestry: First Nations (Tlingit), European, and Asian. Chantai obtained her Bachelor of Arts in Psychology at the University of Calgary in 2014. She is currently a candidate in the Master of Science in Educational Psychology Program, specializing in Counselling Psychology at the University of Calgary. Chantai has an expansive interest in culture expressed through her love of travelling and the creative arts. She has backpacked around the world, partnering with various philanthropic organizations to provide support to communities in need. Her current research with the University of Calgary explores contemporary Indigenous identity and well-being. In her spare time, she enjoys venturing to the mountains, yoga, and writing poetry. Amongst other things, she values healthy relationships, humility, kindness, and the courage of storytelling. Follow Chantai's journey on Instagram.
Mitchell Maracle is a member of the Mohawks of the Bay of Quinte, Tyendinaga Territory. He is currently completing an Honours Bachelor of Science degree in Geology with a minor in General Science at Acadia University in Wolfville, Nova Scotia. Mitchell was fortunate enough to return to post‑secondary education to follow his passion in geology after previously working for the First Nation of Na-Cho Nyak Dun in the Yukon in mineral exploration. He hopes to further specialize and become involved with Indigenous communities across Canada regarding natural resources and geo‑hazards on traditional lands. Follow Mitchell's journey on LinkedIn and on Instagram.
Destiny Bird is a young and ambitious Indigenous woman from Treaty 6, Paul First Nation. She is completing her Master of Arts in Justice Studies at Royal Roads University, where she also completed an undergraduate Bachelor of Arts in Justice Studies in 2019. Destiny has also completed a diploma in Correctional Services from MacEwan University. She is passionate about volunteering and helping people achieve their greatest potential. Her goal is to work within her field for a few years until she decides she is ready to take on an even greater educational goal, a PhD. Follow Destiny's journey on Twitter.
Kate Dunn is Anishinaabe of Mississauga First Nation in Ontario and is currently living in Calgary, Alberta. She has a background in nursing, a Master's degree in Public Health, and is pursuing a Doctorate in Social Sciences at Royal Roads University focusing on Indigenous Health. Her doctoral research focuses on Indigenous perspectives of health and wellness through Wisdom Seeking interviews with Indigenous Knowledge Holders that facilitate a respectful and culturally relevant approach to hepatitis C care and cure. Kate's goal is to give back by focusing her research and work on positive social impact through wellness and changing health disparities. Follow Kate's journey on LinkedIn.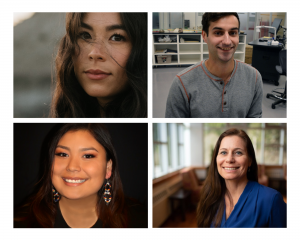 Since it was established nearly a decade ago, FNIGC's National Student Bursary program has awarded more than $43,000 to 23 First Nations post-secondary students across Canada. This year's four bursaries were possible, in part, thanks to a generous contribution from Tracey P. Lariault, Assistant Professor of Critical Media and Big Data in the School of Journalism and Communication at Carleton University.
To learn more about FNIGC's National Student Bursary program go here.
For more information on the bursary application process, contact Erin Corston, Senior Advisor, Partnerships & Capacity, at [email protected].
For more information about FNIGC, visit FNIGC.ca or contact Brad Mackay, Manager, Communications, at [email protected].
– 30 –